As part of Landscape's editorial response to the climate and biodiversity emergency, we are initiating a quarterly call to readers to submit their most inspiring ideas for addressing it
The LI declared a Climate and Biodiversity Emergency in June. Details of our thinking and approach can be found here.
The Institute has brought together an expert panel to coordinate a response over the coming months. The Panel will provide advice and develop a list of potential actions that the LI and its members can take.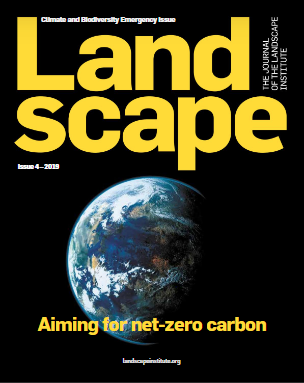 As part of Landscape's editorial response, we are initiating a quarterly call to readers to submit their most inspiring ideas for addressing the climate emergency, the first of which are set out on page 44. A doodle, a video, case studies of best practice are all welcome. Please send your ideas to the Commissioning Editor Paul Lincoln.
In this edition, we look at the needs of refugees affected by climate crisis and the work that our Humanitarian Landscape Collective is involved in (page 11). We remind members of the role of UN Sustainable Goals (page 12), and of the importance of communicating the urgency of climate change with the public (page 22).
At the heart of a change to our practice and behaviour is reflecting on our history and knowledge. On page 17, we celebrate the 50th anniversary of Ian McHarg's Design With Nature by looking at his continuing relevance to the climate change debate and on page 50, we publish the first of a series of resource guides. We focus on making the most of the tools already at hand such as Environmental Net Gain (page 34), BIM (page 69) and landscape character (page 54), all of which have a part to play.
We showcase projects and initiatives adapting to climate change or reducing carbon, including proposals to install ground source heat pumps in public parks (page 28); a vision for a biodiverse Thamesmead development (page 31); and the work of Slow The Flow Calderdale, a community initiative to tackle flooding (page 40). The Slow the Flow Calderdale is particularly inspiring, demonstrating what an active community group led by our members can achieve.
While we first published a policy position paper on climate change in 2008, we need considered action and changes to practice to respond to the environmental crises that we now face.
The landscape profession is well placed to be at the forefront of solutions. Our voice is one of honesty and integrity, and our Code of Conduct requires us to be responsible to the environment and future generations.
We welcome your contribution to this important agenda.